The SUPPLY CHA!NGE Project Flyer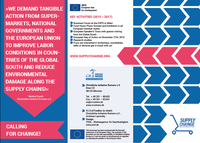 The FOOD VISION Postcard Book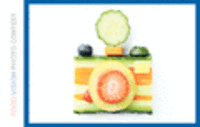 Twenty of the most interesting contributions to the FOOD VISION photo competition are gathered in this catalogue. Every page can be partitioned off and used as a standard postcard, to further spread the word about the petition. The catalogue can be ordered at CIR e.V. in Germany.
Goodness Guaranteed?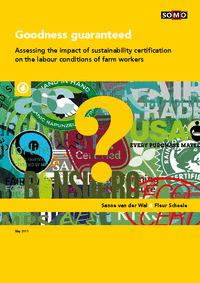 Increasingly popular sustainability certification schemes like Rainforest Alliance, Fairtrade or UTZ Certified aim to improve the working conditions of workers on farms in developing countries. The study 'Goodness Guaranteed?', conducted by SUPPLY CHA!NGE partner SOMO, shows that workplace conditions are generally better at certified companies than at non-certified companies, but that many farm workers are still confronted with a variety of workers and human rights issues.
Squeeze out (Orange Juice)
The study SQUEEZE OUT draws a transparent picture of the entire European orange juice supply chain, from the cultivation of the oranges to the marketing of the juice. Research findings in Brazil and Europe shed light on something that food retailers are all too happy to cover up: dependence and exploitation of workers on plantations and in factories, as well as environmental destruction, in particular through massive use of pesticides.
This publication is based on reasearch conducted in Brazil and European Countries in 2013 and 2015 by CIR e.V., Global2000 and VER.DI.
The Law of the Jungle (Palm Oil)
Out of a Ditch, into a Pond (Pineapple)
Bittersweet (Sugar Cane)
Published in December 2015, 'Bittersweet' investigates sustainability issues in European Sugar Cane supply chains. The study indicates that sustainability issues ins Sugar Cane production are widespread. Sugar using companies, however, hardly ever ask for the origin of sugar according to one of Europe's largest sugar refiners.